It's not uncommon for me to get a call from a business owner who says they need a new business strategy. But when I press for more information and ask about their current strategy, the response is almost always, "Hmm… I'm not even sure we have one."
Owners often waste time searching for a new, perfect strategy instead of fully implementing and improving the one they already have.
And yes — you do have one. I guarantee it.
Every business has a strategy, whether they realize it or not. This is because strategy manifests. It naturally emerges through the very acts of running and operating a business. While it may not be an intentional strategy that leads to the exact outcomes you want, a strategy does exist. 
It may even be a good strategy, but perhaps one that's being implemented poorly.
In this post, we'll walk through the exact exercise I do with clients in this situation. It will help you identify your existing strategy and understand what needs to change to make it a good strategy that can lead to your intended outcomes.
The Strategy Grid
To identify which strategy you're currently pursuing, we need to start by looking at the possible strategies available to you and where they fit in relation to each other.
We begin with a grid layout along an X-Y axis.
In the extreme of the bottom left corner, we have limited capacity and choices. The purest example of this is a rental business that rents a single product and has only one of them. This business serves one client at a time with one product. In this business, when the product is rented, no other business can be done until the product comes back.
(While this type of business could exist, I'm only using it as an example, an anchor point for the other business strategies.)
As we move further out on the X and Y axes, the amount of people-driven services and the quantity and depth of products we're willing to offer increases. In other words, we create more capacity and value for our buyers. This is where we start to see four primary business strategies emerge.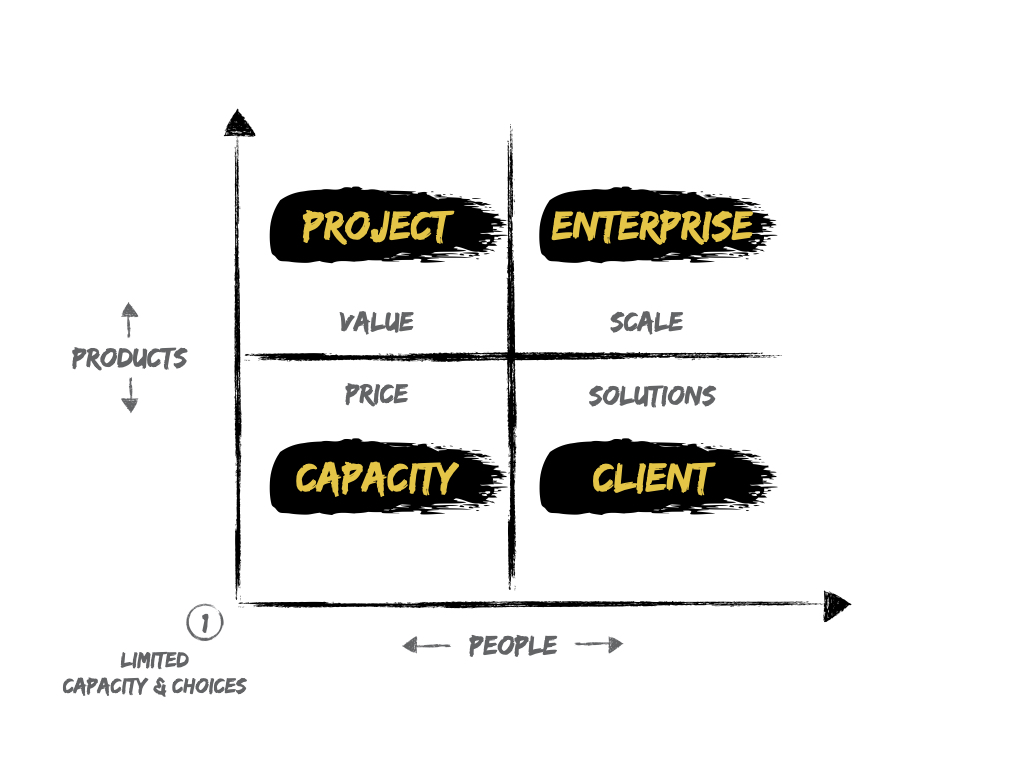 The Capacity-Driven Strategy
In the bottom left quadrant, we have a capacity-driven strategy. This would typically involve a company that focuses on rentals or staffing. This company is driven by its capacity to fulfill orders and is only truly limited by inventory or personnel.
In the capacity-based strategy, buyers mainly care about price and availability. You can expand capacity by brokering products or services from other providers, but that slightly alters your relationship with buyers.
The Project-Driven Strategy
In the top left quadrant, we have a project-driven strategy. This strategy focuses primarily on finding a best-fit customer for your chosen products and services, and then satisfying that customer's needs in a single transaction.
In the project-driven strategy, the business strives for the balance between expertise and value. Again, you can expand your capacity by working with other suppliers, perhaps from the Capacity quadrant.
The Client-Driven Strategy
In the bottom right quadrant, we have the client-driven strategy. This strategy is all about knowledge and relationships. Companies with this strategy look to serve the right buyer with a variety of products and services.
As the names imply, the client-driven strategy serves clients, while the project-driven strategy serves customers. This is a key difference. Customers buy one transaction or project at a time. Clients assume you'll do business together and expect you to negotiate the right transaction for them.
In this quadrant, clients are primarily concerned with solutions and fulfillment over value. In other words, "Can you do this for me?" instead of "Can you lower your price, so I can choose you?"
The Enterprise Strategy
Finally, the top right quadrant is the enterprise strategy. Businesses in this quadrant will do all things for all people at a very high volume. For example, if you're starting a war in Afghanistan in six weeks and need infrastructure, you call Halliburton.
In this strategy, buyers are concerned with scale and expediency. Enterprise sellers focus on fulfillment skills instead of creating internal resources to resell.
Begin With Your Ideal Buyer
To see where your current business fits, start by describing your ideal customer or client. Choose someone you do business with now. Pick a buyer you would like to clone, so you can fire all the others.
What's their name?
What do they like about you?
How do they do business with you?
What sort of business do they bring you?
How often do they call you?
When I go through this with my coaching clients, I usually get a description of a business or vertical they are interested in, or I get a description of a project they would like to work on. Your ideal buyer is a real person, not an entity. That person can exist in many companies in a variety of roles.
Once you have a clear picture of who this buyer is, examine what kind of relationship you have with them. Is it transactional, project-based, conditional, or unconditional?
To give you an example, let's say we describe our ideal client. Her name is Willa. Willa is a corporate event buyer who wants her supplier to be the smartest company in the world. She wants us to answer all her questions and solve all her problems, regardless of what it costs. She calls us for everything, even if it's not something we regularly do.
Willa is a Client and your ideal strategy is bottom-right quadrant. This informs which tactics and micro strategies we should use to get more Willas into our sales funnel.
Or, you may describe what it's like working with Nick. Nick is a customer you first met four years ago. You worked with him on his annual conference, and it was one of the smoothest projects you've ever taken on. He told you his expectations and budget, and immediately signed your proposal after you submitted it. Nick gives honest, helpful feedback and has called you every year since then.
In this case, Nick's description points to a project-driven strategy. And if we want more Nicks, we need to have different business strategies than if we were trying to get more Willas.
Do you see how description and strategy work together?
Identifying your ideal buyer is so important because it tells you which quadrant you would most like to be in. And it doesn't matter which quadrant that is. At all. There's no wrong quadrant.
All that matters is that you recognize which one you are best suited for and stick with it.
Embrace the 80:20
At this point in my explanation, clients will often say, "Got it! So I just need to stick with my strategy and ignore everything else, right?"
That would be great in an ideal world, but it's not very practical. Identifying your strategy and sticking with it is not a zero-sum game.
Let's look back at our example of Willa. We identify that we're in a client-driven strategy, so we need to emphasize that and use it to guide 80% of our efforts in our sales, marketing, business development, processes, solutions, creativity, etc.
But we also need to account for slow seasons. We need to find ways to profit from our assets and resources, so they don't lie fallow, which means we may still need to focus 20% toward project-driven work.
Finding this balance is absolutely key to the entire strategy grid. If we learn how to focus our attention, putting 80% into the right place, we can hit our business goals much faster.
Take a few minutes to describe your ideal buyer and find where they fall on the grid. Now describe your top three clients or projects. Do you notice a trend? Which quadrant best suits those buyers? Which quadrant do you prefer?
This is your existing strategy. And once you're clear about it, you can focus your energy in a productive direction to get more intentional results.