In my last post, Why Sticking to a Strategy Is More Important Than Choosing One, I introduced you to The Strategy Grid. We discussed how every business has a strategy — whether they know it or not. Through the very act of running and operating a business, a strategy naturally emerges. While it may not be an intentional strategy that leads to the exact outcomes we want, a strategy does exist.
In this post, we'll take a look at each major area of a business. We'll see how our chosen strategy impacts our approach and helps us achieve our intended outcomes as quickly as possible.
First, let's quickly revisit The Strategy Grid.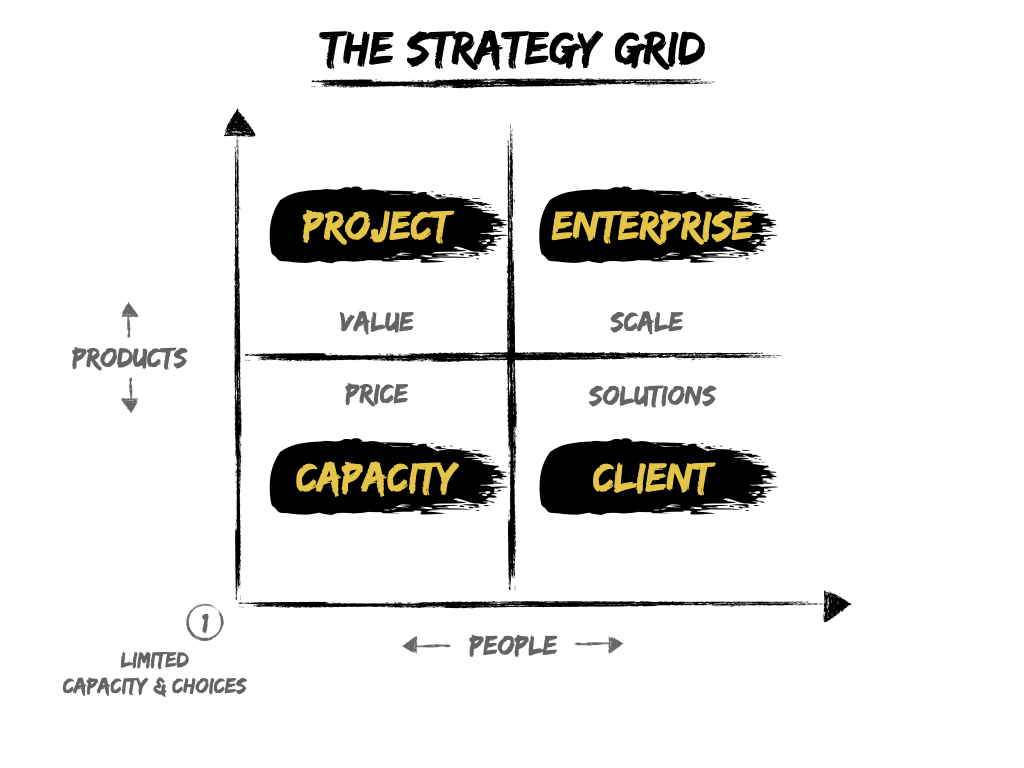 The grid contains the four major business strategies: 
Capacity-Driven Strategy
Project-Driven Strategy
Client-Driven Strategy
Enterprise Strategy
For our immediate purposes, we'll only focus on the first three.
The capacity-driven business focuses on renting equipment or providing people based on limited supply. Their customers are primarily concerned with price and availability.
The project-driven business seeks out best-fit customers for their predefined products and services. Their customers are primarily concerned with getting the best value and will provide leeway to let the supplier define how to do the job.
The client-driven business looks for long-term clients who continually rely on them for a wide range of outcomes. Their customers are primarily concerned with getting solutions for a broad swath of needs.
By differentiating these strategies, we can decide which type of business we want to be in and focus 80% of our efforts on this work (reserving 20% of our efforts for necessary exceptions and fill-in work).
Ultimately, strategy equals time. When we optimize our services and processes for the right quadrant, we waste less time and fewer resources trying to provide an infinite number of solutions for anyone who wants to do business with us.
Now that we understand the different strategies, we can look at each specific area of our business. What needs to change to keep us within our chosen strategy and reach our intended outcomes faster?
1. Sales and Marketing Funnels
The first area we should look at is our sales and marketing funnel.
How do you manage your lead generation?
Where do your visitors land after they've clicked your ad or social media post?
What's the next step you want them to take?
When you understand what type of buyer you want to attract, you can define next steps that will appeal to them. This leads to higher quality prospects, which means you can close even more business at a better price.
For example, in a capacity-driven business, you may encourage website visitors to browse your rental inventory. In a project-driven business, you may encourage visitors to see examples of past projects and submit an RFP. And in a client-driven business, you may encourage site visitors to read case studies and contact you or a sales executive directly, since this strategy relies heavily on relationships.
Without a clear understanding of your strategy, you may be prompting visitors to take a step that doesn't pull them in the right direction.
2. Proposals
With proposals, many companies believe they need to start from scratch for every new RFP. That is often necessary when the business has no idea who their ideal buyer is.
But when you know who your ideal customer is, proposals can be templated. This speeds up creation and response time, which can improve your chances of winning a proposal.
People have asked me for proposal templates for as long as I can remember. But they should have been asking me to help them find their ideal customer. Then they'd have one proposal template that takes care of 80% of their needs.
3. Operational Response
Once we understand who our ideal customer is and what they're looking to buy, we no longer need to try to work efficiently across three quadrants. Instead, we can set up our operations to work most efficiently for 80% of the opportunities that come in.
Let's say we're in a primarily client-driven business, but we also make room for the occasional project-based customer. In that case, we would set up our operations to be efficient for 80% (clients) and adaptable for 20% (projects).
About 25 years ago, I worked for a company that did big events. We resided firmly in the project-driven strategy. We had our processes and we stuck to them, but sometimes we had to make exceptions because it was the most realistic thing to do for our business. (Again, it's 80:20, not 100:0.)
While breakout rooms weren't part of our normal operations, on occasion we would do them. So even though our operation processes were already dialed in, we had to first agree that we could be adaptable to the occasional breakout room gig, and then we had to define the process for doing it.
The big event process wouldn't work for breakouts, so we created a breakout process that used the right equipment and people to get the job done.
4. Finance
Our chosen strategy also affects how we handle our financial agreements with buyers. This is commonly overlooked, but how many businesses still send three-page boilerplate rental agreements to customers who aren't even doing a rental transaction?
I see this all the time. And it's completely unnecessary.
Instead, just like we need to send the right proposal to the right type of client, we need to send the right financial agreements to buyers depending on their needs.
In a client-driven business, that might mean applying the same terms and conditions across all projects. In a project-driven business, each job could have a custom payment schedule. And in capacity-driven businesses, it might mean all transactions are paid in advance.
Let Your Chosen Strategy Guide You
Which quadrant you align with should influence everything you do in your business. Every decision about marketing, sales, operations, and finance should be affected by which strategy you choose to prioritize.
Your chosen strategy should empower you.
It will allow you to optimize everything about your business. You can hire the right personnel, develop the right processes, invest in the right tools, and own the right inventory. You can focus on the 80% that has the biggest impact on your business, so you can hit your goals faster.